On February 6, Château Guiraud invited our team to a private meeting at the Natural History Museum of Bordeaux, to present their ambitions for this new year. So what about it? What will happen at Château Guiraud in 2020?
2020, the year of permaculture
In the morning of this Tuesday, February 6, we are warmly welcomed by Candice Hunt, Xavier, Luc and Clémence Planty at the Museum of Bordeaux. Indeed, as a priviledged partner, we are fortunate to be able to interact intimately with the Château Guiraud teams, before the official announcement.
Thus, Luc Planty quickly laid the foundations, explaining to us that the Château Guiraud vineyard is an experimental vineyard. In fact, the watchword is now "permaculture". But what does this term actually mean?
"Permaculture" is defined by Wikipedia as: "a systemic and global concept which aims to create ecosystems. Inspiration comes from nature, how it works and tradition. Permaculture takes into account the biodiversity of each system."
In this way, Luc Planty takes back the path traced by his father Xavier in terms of sustainable environmental practices. As you already know, Château Guiraud began its transition to organic viticulture in 1996, making it the pioneer of Sauternes Premiers Crus Classés in this subject. Since the organic certification obtained for the 2011 vintage, the estate has continued to innovate and invest (episode 3: Guiraud & Organic Viticulture to read by clicking here).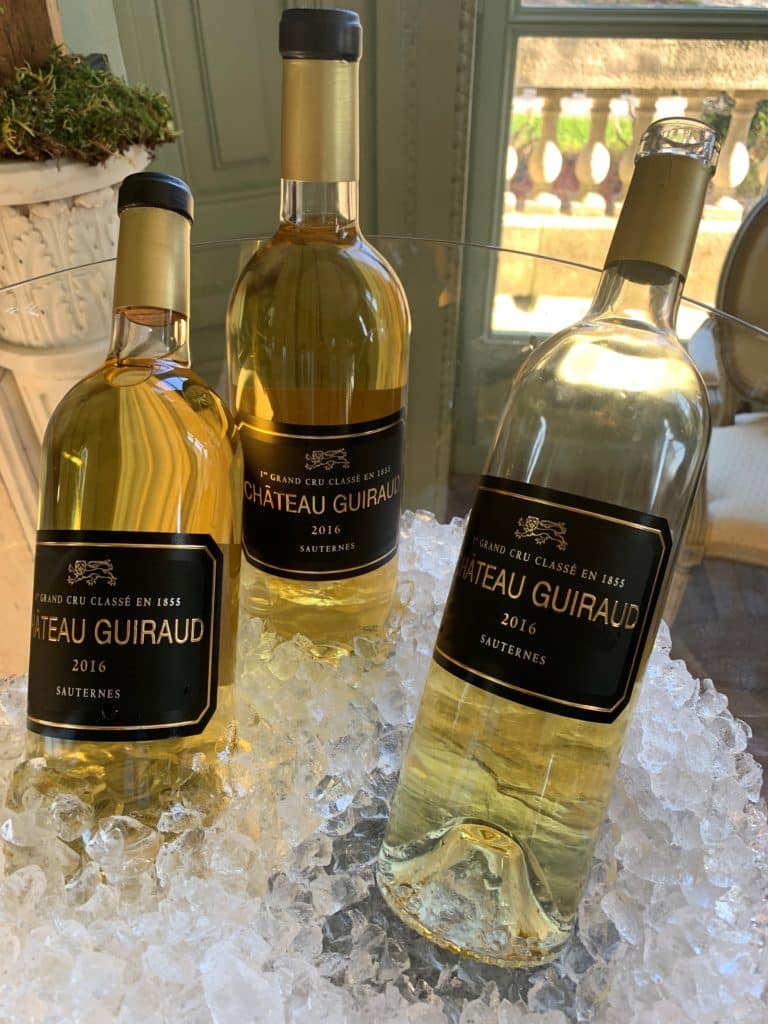 It is therefore quite natural that Château Guiraud is now turning to biodynamic viticulture. We even learn that some plots are already being carried out in biodynamic. However, Luc Planty speaks of an even more global notion than biodynamic : which is permaculture. By this practice, his will is to reintegrate the exploitation in his natural environment to limit its impacts. The idea is to not only place the vines at the center of the reflection, but all the vegetal species present in their vineyard. In short, preserving biodiversity in order to create a favorable climate for the vine and the grapes.
G de Guiraud 2019: Release
The day after this presentation of Guiraud's ambitions, we received the release of G de Château Guiraud 2019, the dry white wine of the estate.
Le G de Château Guiraud 2019
Bordeaux White, Organic Certified
Press Scores of G de Guiraud 2018: 
WS: 91-94/100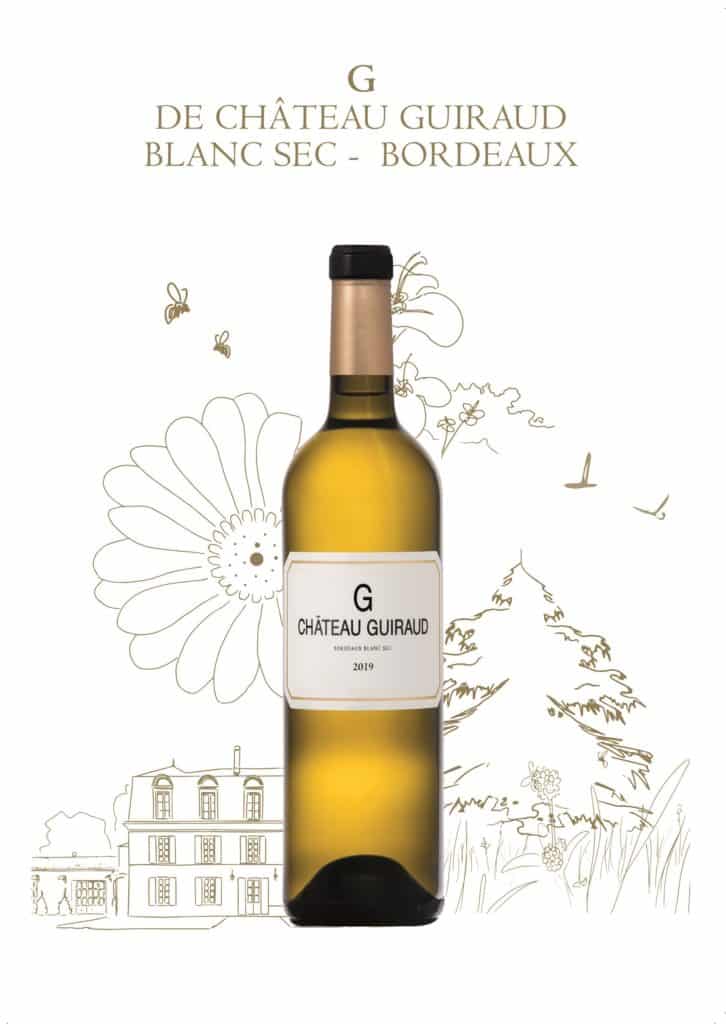 Why buy this wine ? 
A dry white wine by a 1st GCC of Sauternes : a fantastic signature
Organic Certified
One of the 3 best quality/price ratio in dry white wine of Bordeaux
Brand Ambassador in Europe, Asia & USA to support your teams
The commercial team is also constantly on the field (owners & directors)
The trending segment of dry white produced in Sauternes -Clos des Lunes, R de Rieussec, Y d'Yquem)
Available in Magnum & Double Magnum
G de Guiraud is the dry white made from the vines of the 1st GCC, Organic certified. Harvested like a Sauternes in several waves ("tries") and vinified by the team of the 1st GCC using barrels that previously aged the Sweet wine, this balanced blend of Sémillon & Sauvignon (50/50) offer a singular expression of the terroir, in its dry version.
Note by Luc Planty, General Manager :
« Following on from the mild winter and a spring that was cooler than that of the previous 5 years, rainfall became regular and was slightly higher than average. Summer temperatures were high over a long period. In July the lack of humidity evolved into drought conditions. Fortunately, the natural grassing over, implemented in the vineyard since 1996, protected the vines from any adverse effects. August was relatively cool with little rainfall but nice sunny days. Over this period we observed the convergence of technical maturity and phenological maturity thanks to the natural viticultural practices at Chateau Guiraud. From September 4th to 27th, the secateurs were snipping without pause. The vines were able to offer us grapes of remarkable quality, thanks, in particular, to the cool nights. The first pres-sings produced juice of a beautiful balance and complexity. The 2019 is a veritable gift of mother Nature for the G de Guiraud, which is, moreover, our eighth vintage to have organic certification. Quel bonheur !».
Posted: