Château Haut Batailley, vintage 2017 is the first vintage produced by Cazes Family since they have bought the estate last year. We look back over a year of challenges and changes.
Cazes Family : a historical family of the Medoc
In 1850, Cazes Family decided to leave the Ariège montains to reach the vines of Medoc. Almost a century later, in 1939, Jean-Charles Cazes became the owner of Château Lynch Bages, Grand Cru Classé. He devoted his life to his new estate and crafted a wine that rapidly gained recognition. Few years later, Wolrd War 2 took place and the youngest son of Jean-Charles Cazes, André, was taken prisoner. After his release, he went back to his native land. Here, he went into Insurance. It was not until the 1960s that he took back the reins of the property and spread the influence of Château Lynch Bages, as his father before him. In 1973, he look after a heir to manage this Grand Cru Classé after him. It is in this context that Jean-Michel Cazes resettled in Pauillac, after engineering studies and a first job at IBM.
Unfortunately, the Bordeaux vineyard is the outsider of "Trente-Glorieuses" : a shaky commercialization, a mediocre quality and 1970's scandales did not help Jean-Michel affairs. However, he didn't gave up and started a complete and deep reorganization of his vineyard. He made his wines more accessible and modern. At that time, others Chateau owners are more attracted by French markets and untrusted wine merchants with export. But Jean-Michel, as a real globetrotter, bilingual and expert of United-States, did not hesitated to travel the world in order to promote the wines of Château Lynch Bages. The Cazes Family history is a story of journeys… And it is the reason why Château Lynch Bages has quickly gained an international reknowed. In the same time, Château Ormes de Pez at Saint-Estephe, Château Ville Bel-Air, Domaine des Sénéchaux at Châteauneuf-du-Pape and Domaine l'Ostal Cazes (formerly La Livinière) in Languedoc are acquired by Cazes Family. Jean-Michel's journey goes on towards Portugal and Australia to sign new partnerships with familial properties of these countries. The last born of this partnership is called Roquette E Cazes, names of two families. As an epicurean he also invests in Relais & Château Cordeillan-Bages and in a cooking and wine school in Bordeaux. He is successively President of viticulture Union of Pauillac, manager of Medoc wines and Director of Axa Millésime during few years. All his actions contributed to Château Lynch Bages, and also Bordeaux vineyard, international recognition.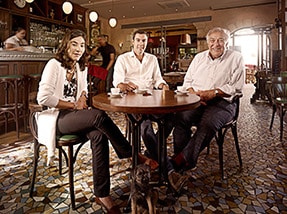 Finally, Jean-Michel Cazes has stepped down in favour of the youngest generation, leading by his son Jean-Charles Cazes, 42 years old. Since many years, Jean-Charles took back the reins of the Cazes familial estates, still advised by his father. And one of the most prestigious action managed by Jean-Charles is the purchase of Château Haut Batailley.
Chateau Haut-Batailley : a coveted estate.
To tell the story of Chateau Haut Batailley, we have to go to Pauillac, little city of Medoc that counts 3 Premiers Grand Crus Classés and an exhaustive list of famous estates. And Chateau Lynch Bages is one of them ! Cazes Family knows very well the terroir of Pauillac, and it is one of the reason that convince Brest-Borie Family, owners of Chateau Haut Batailley.
Indeed, the history of Chateau Haut Batailley joined that of the Borie family in 1930, when they acquired the domain of Batailley. However, it was not until 1940 that the vineyard was split in two and the Batailley and Haut Batailley Castles were born. It is then François-Xavier Borie who exploited the property in renting until 2017. In March of this year, the Cazes family bought the estate. It is a transmission between two families firmly rooted in the Medocan and Pauillac landscape for several generations. So Cazes Family has a real commitment in this estate. François-Xavier explained "we are delighted that Château Haut-Batailley has been accepted into the fold of the Cazes family, who are committed to continuing the work undertaken at the estate. We're confident that they will maintain the identity and character of the property".
But, the big deal is about the will of Cazes Family : Will Haut Batailley be assimilated to Lynch Bages ? What are the project of Jean-Charles Cazes with this new estate, Grand Cru Classé of 1855 ? So, thanks to a Press release, they reassure : "This acquisition will strengthen our presence in Pauillac with the aim of undertaking a project distinct from Lynch-Bages. In order to respect the estate's identity and the integrity of its vineyard, the property will be managed independently and have its own dedicated team of technical experts".
As they have bought Chateau Haut Batailley only few weeks before en Primeur campaign, they have decided not to release the vintage 2016. Indeed, Jean-Charles wanted to devote this year to analysis and understanding of the market. After this year of consideration, they reveal the new positionning of Château Haut-Batailley thanks to a new packaging, top of the range.
Château Haut Batailley 2017 : First vintage of Cazes Family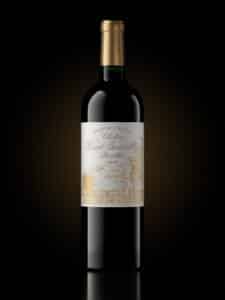 Chateau Haut Batailley's purchase by Cazes Family settles a new departure for the estate. Indeed, Jean-Charles Cazes have chosen not releasing vintage 2016.
After a year of analysis, Jean-Charles Cazes tells to Terre de Vins (in French) that 2017 is a successful year for the wine. The estate hasn't been stroke by the hail and the wine reveals balance and beautiful aromas. Indeed, the specificity of Haut-Batailley terroir lies in its location. Even if the property is on the Pauillac appellation, it is at the limit of the Saint Julien appellation, which brings a certain femininity, a rare quality for a Pauillac. The vineyard area in production is 22 hectares and the grape variety is 70% Cabernet Sauvignon, 25% Merlot and 5% Cabernet Franc.
Vintage 2017 was unveiled in a new packaging that perfectly reflects all the characteristics of this wine : elegance, feminism and delightness. More than a new departure in the history of the estate, Chateau Haut Batailley shows the passion and the know-how of two families !
Posted: