Château d'Yquem 2016, how to describe the indescribable? Well … Imagine a sweet evening summerind, lie on the edge of a lake, on your silky blanket. Imagine a fine breeze passing through your temples after a long day. Imagine now that billions of stars sparkle in the sky, under your amazed gaze. Among them, some make their way to a distant and unknown direction. Do you feel this feeling? The feeling of pure happiness. This is what will make you feel the Château d'Yquem 2016.
After the morning release of Château d'Yquem 2016, let's return to a wine whose reputation is matched only by its grace.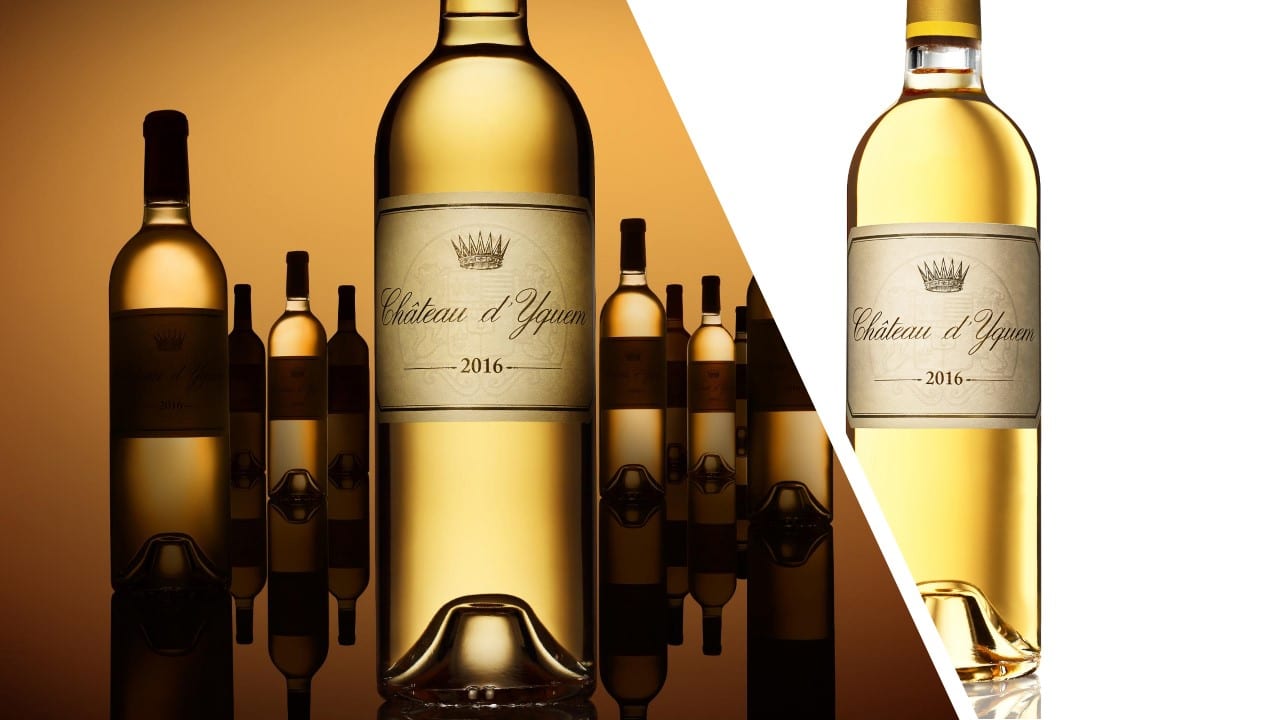 Yquem 2016 : Optimal Weather Conditions
Throughout 2016, the weather conditions were favorable to the vinification of a great vintage. Indeed, the winter of 2016 was very mild and wet. Spring rainfall was close to the seasonal average. Later than usual bud break and very clamp period in early June delayed flowering. However, perfect floral initiation in 2015 contributed to a large potential crop.
During July and August, a little worry sow doubt in Francis Mayeur, technical director of the property. Indeed, the exceptional drought conditions in summer might have led to excessive water stress were it not for the fact that most of Yquem's vineyard plots have a deep clay subsoil that stores large enough reserves of winter rainwater to meet the vines' needs.
So, the first significant period of precipitation (43 mm) since the 20 th of June took place mid-September. This was ideal for triggering botrytis. After two weeks of sunny weather that concentrated the grapes, a first pass took place in the vineyard. The wines from these grapes proved to be rich and vivacious. Another heavy shower (38 mm) on a single day, the 30 th of September was ideal for spreading noble rot. Then, began a round of patience with Nature, which has a huge importance in viticulture, as we have seen it in our previous episodes. It was therefore necessary to wait until October 18th and the end of the rainy period to harvest the third sort, this one of very high quality and representing almost half of the total harvest.
To summarize, a hot and totally atypical summer featured drought conditions that exceeded any ever recorded at the château, but which did not have a negative effect on the vines thanks to water reserves in the estate's clay terroirs.  Extremely cool autumn weather was conducive to the slow, but thorough botrytisation of the grapes. 4 passes were needed in order to extract the better of Yquem 2016. Finally, weather conditions have led to a very qualitative harvests. 
But although terroirs of Yquem 2016 have once again offered the best, the most important remains to be done. And this depends only on man's know-how.
Yquem 2016 : The Expression of Exceptional Know-how.
Francis Mayeur, Technical Director of Château d'Yquem, comments on the conditions of this 2016 vintage: "At the end of October, we had frost, very cool temperatures, it provoked a long stay of botrytis on the grapes. We then have a drop in acidity, we will have to adopt a very strict sorting strategy at the time of blending to eliminate the softest vats, we eliminated 60% … For a superb result". 
Finally, as Antonio Galloni explains : « The 2016 d'Yquem is a magical wine. It also looks like an Yquem that will drink well right out of the gate. Like so many of the better wines in this vintage, it manages to express richness while avoiding excess heaviness. Pineapple, orange marmalade, exotic flowers and spice all blossom in the glass. There is a real sense of phenolic richness and overall viscosity to the 2016 that adds to the wine's singular personality. The 135 grams of residual sugar are not especially evident. In 2016, the vineyard was harvested in four passes, but it was not until after the October rains that noble rot started to appear on the vine ». By the way, unique estate classified 1er Cru Supérieur and among the few permitting itself to skip a vintage when the quality does not match its standards (1910, 1915, 1930, 1951, 1952, 1964, 1972, 1974, 1992 et 2012), Château d'Yquem takes a unique place in the world of Fine Wines.
So, Yquem 2016, as its predecessor, seduces at each swallow. In few words, Yquem 2016: a wine for eternity. We are very pleased to offer you the release of Château d'Yquem 2016 :
Château d'Yquem 2016
1er Cru Supérieur of Sauternes 
75% Sémillon & 25% Sauvignon Blanc
Scores from the Press:
WA: 95-97 / AG: 94-97 / DEC: 97 / JMQ: 96 / JS: 98-99 / Le Point : 19 / B&D: 98 / G&M: 17-19 / JL: 97 / Beck : 97-100


Please contact us for selling details
Why buy this wine?
Yquem is a legendary wine
The opportunities of drinking d'Yquem are infinite. A tips for you: better drink the young vintages at 9°C and the mature ones at 12°C
The perfect occasion to choose the package & Bottle-size you need
Fantastic scores from the Press this vintage again
A wine that can be aged forever 
Posted: