The 2016 vintage is now available and it is excellent news when we know that this year is one of the most successful of the Bordeaux vineyard! Moreover, the last scores of the international Press are there to prove it…
Vintage 2016 : Press scores
Last week, Antonio Galloni, the famous journalist behind the online magazine Vinous, unveiled his scores after the 2016 vintage was bottled. The first words of his article set the tone about the quality of the wines produced this year : "The bottled 2016s capture every bit of the potential I sensed when I started tasting the wines from barrel, prior to en primeur, in January 2017. I found many 2016s to be even better from bottle than they were during the spring futures campaign".
For her part, Lisa Perrotti-Brown, published an article late November 2018 entitled "France, Bordeaux: The 2016s in Bottle". And according to her, 2016 was a great year for the Bordeaux vineyards: "While 2016 is an incredible vintage that produced a lot of outstanding and some extraordinary wines throughout Bordeaux, the greatest wines of this amazing year sing not so much about the vintage, or even their communes, but about their vineyards".
The very interesting and unanimous reviews after bottling of 2016 Primeurs told it : the vintage 2016 is the vintage to have in your cellar! Regardless of the appellation, 2016 is a success in Bordeaux. By the way, a lot of 100/100 were granted..! A nice continuity to the 2015 vintage.
And luckily, Bordeaux Tradition still has some stocks of Grands Crus Classés scored by the International Press.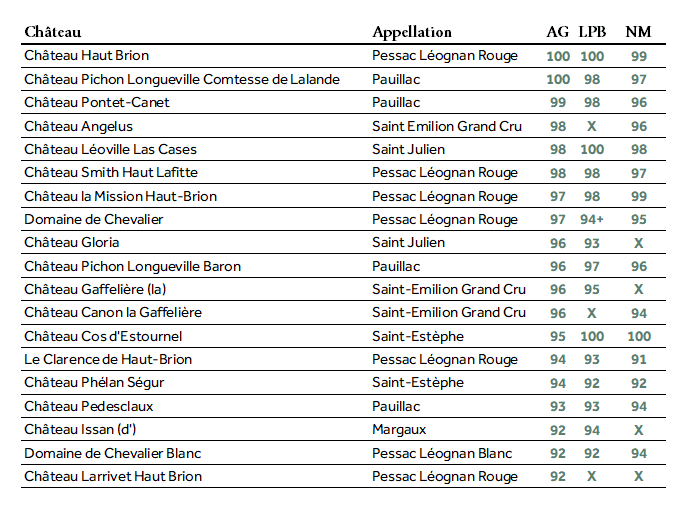 Vintage 2016: our stocks still available, the best scored by the Press.
From the 2016 Primeurs campaign, we knew that 2016 would be a great year for Bordeaux. Thus, we have been able to supply you with the best of the vineyard in May & June 2017. But, we have also been able to keep some stocks that we can offer you today (except sales)! These Grands Crus Classés are therefore available on delivery.

Posted: