Preview of Château du Glana 2015: an unexpected way of communication ! 
Last week, we have received an e-mail from Château du Glana called Avant-Première – Act 1. Inside a 1st video of a web-serie that introduced us to the vintage 2015 at Château du Glana. Lets have a look back at this bewitching way of communication…
Wednesday 16th March 2016, the estate sent us the Act 1 of its 2015 vintage presentation. With a piano background, a bottle of Château du Glana with the sentence "an identity is recording…". Next day, Act 2 staged different vintages of the property from 1937 to 2013. An interesting detail: the last bottle, vintage 2014, was not labelled … Finally, Friday 18th March, 3rd and last video of this web-serie with the bottle of vintage 2015 and this sentence : "discover vintage 2015 the 21st March 2016". 
Monday 21st March, we received a last e-mail from the estate clearing up the mystery surronding those teasers … A  youtube link brought us to a video starting with Ludovic Meffre's explanation (the owner): "This vintage 2015 preview, certainly unusual we confess,  is also the occasion to reveal the new label of Château du Glana […]". Here it is the reason why 2014 bottle was not labelled! Indeed, the estate precised that "thanks to this communication we tell you that our new label will be used next week for vintage 2014". 
Then, Julien Meffre, his brother, explains the harvest conditions which were very favourable for getting a vintage 2015 confortable yield: «The blend of grape varieties was 60% Cabernet Sauvignon and 40% Merlot. The latter produced very fresh, concentrated, and rich wine. The Cabernet Sauvignon wines are simply wonderful, showing great elegance and subtlety.»
So, before the Futures 2015, if you want to get further information about the vintage 2015 at Château du Glana, watch this pretty video: 
To receive our Primeurs 2015 offers, do not hesitate to contact us by e-mail at sales@bordeaux-tradition.com, by phone at +33 5 56 69 25 30 or subscribe to our private Twitter account: @BdxTradition where you can find all our offers in real time !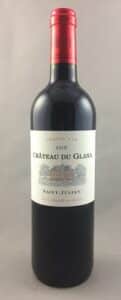 Posted: