La Réserve de Malartic 2014,Pessac Léognan : Release of the day !  
"Nothing exceptional can be done without an exceptional soil. It is the wine-makers work, by the knowledge of the soil, to immerge the personality of his wine" 
Domaine de Lagravière is bought in the end of the 18th century by the Hippolyte de Maurés de Malartic family. The estate was bought in 1850 by Madame Arnaud Ricard that added the name of Lagravière to Malartic as homage of the old owners. The actual owners have owned the estate since 1996 and undertook the year after, a metamorphose operation. The estate is one of the six crus classes at the same time red and white, during the ranking of 1953. Improved technologies are used to go back to traditional methods and satisfy the exigency of the extraordinary complexity of the wines. 
La reserve de Malartic is the second label of the estate Château Malartic Lagravière.
Why buy this wine?
Second wine of a Grand Cru Classé made with the same care
Grape variety : Merlot 60 %, Cabernet-Sauvignon 35 %, Cabernet-Franc 5 %
Sustainable agriculture and High Value Environmental certification*
Revolutionary cellar with little stainless and wooden thermo-regulated tanks that allow plot vinification
Renown oenologists Michel ROLLAND
15 month barrel ageing in 25% of new oak
The property has reduced its prices since 2010: really rare.
A modern label that reminds the first wine
 If you want to
receive an offer about La Réserve de Malartic 2014
, please be free to contact us at
contact@bordeaux-tradition.com
or by phone at
+33 5 56 69 25 30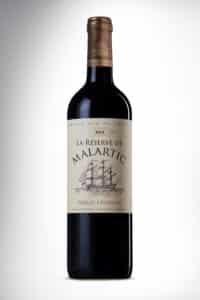 Posted: