Centuries after centuries, Bordeaux has mastered the art of blending. And the release of this new label is a perfect example.

The 45° line of latitude, dear to Olivier Bernard, offers the perfect climatic conditions for Bordeaux wine makers to reveal the specificity of each of their terroirs. Bordeaux remains so the smallest common denominator to all the wines produced in our region. But what is a Bordeaux in fact?
LA PETITE LUNE is maybe the answer of Olivier Bernard & Stéphane Derenoncourt.
Like Champaign people building their brut, manifesto of the style and the Know-How of a House, the manager of Domaine de Chevalier & the famous wine advisor (also at Domaine de Chevalier!) have decided together to build their own idea of Bordeaux: LA PETITE LUNE
Issued from beautiful batches of various properties advised & vinified under the watch of Stéphane Derenoncourt, and blended with Olivier Bernard, LA PETITE LUNE wants to be stylish red & white Bordeaux reflecting the philosophy of its creator.
The opportunity to select juices all around Bordeaux, gives this PETITE LUNE the chance of keeping the good features of each vintage without suffering from its impact. This "free of Speech" this is also the main characteristic of this new gem.
Finally, the packaging is also taken into account since this new label in the "Bernard" galaxy benefits from the beautiful Burdigala "XVIIIth century" style developed for Clos des Lunes,  and will be packaged in a superb 6 Bottles White cardboard.
For more information about La Petite Lune 2014 red and the 2015 white, released today, please do not hesitate to contact us by e-mail at sales@bordeaux-tradition.com, by phone at +33 5 56 69 25 30 or subscribe to our private Twitter account: @BdxTradition where you can find all our offers in real time !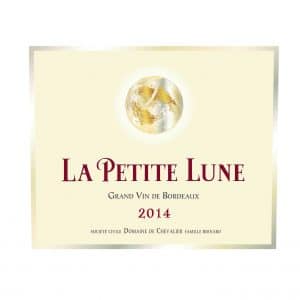 Posted: