Chateau Guiraud creates a new webserie: Artisan by Nature, whose 1st  episode was published the 22nd of November. Bordeaux Tradition comes back on this Chateau Guiraud innovation.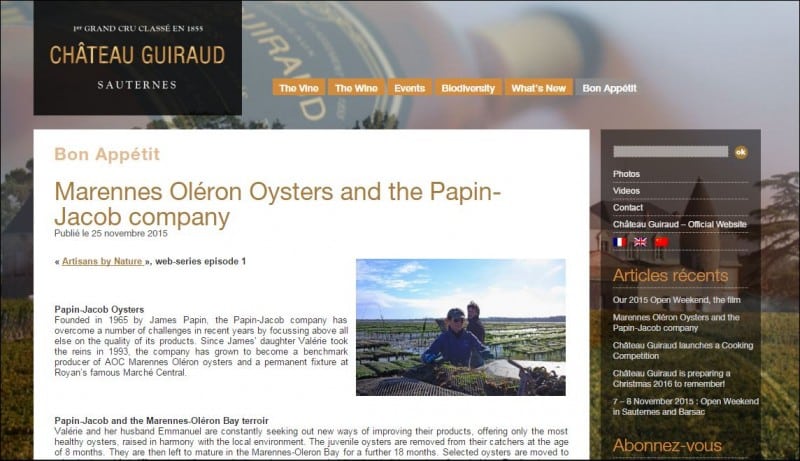 What is the definition of a web série ? 
Web fiction is written work of literature available primarily or solely on the Internet. A common type of web fiction is the webserial. The term comes from old serial stories that were once published regularly in newspapers and magazines.
What is Chateau Guiraud web série ? 
The 22nd of November 2015, the estate posted the 1st episode of its new webseries called "Artisan by Nature". With this initiative, the estate has chosen to highlight artisans all specialized in their differents fields. So, with this 1st part we can find out about the Marennes Oléron Oysters and the Papin Jacob company., one of the most famous  First, the property reminds us this famous Papin-Jacob firm history. Then, it focuses on oysters culture methods. Finally, the estate highlights the great pairing on between "A relatively young Château Guiraud, with notes of tropical fruits, quince and spices, [which]provides the perfect counterpoint to lightly salty Marennes-Oleron oysters".
The major asset of this article is the possibility to watch a short story realized by the estate: "Papin-Jacob oysters, meeting with Valerie and Emmanuel". 
Bordeaux Tradition opinion ?
A wonderful creation from Chateau Guiraud that highlights artisans savoir-faire. On another hand, the estate recalls us that its wine is pairing well with many dishes, as oysters but also others products that you will have the pleasure to discover in the next episodes ! So, we are very impatient to discover next episode !
And don't forget, if you wish to get further information or receive an offer on the wines of the property, please free to contact us at sales@bordeaux-tradition.com or by phone at 05 56 69 25 30:
Château Guiraud 1st Grand Cru Classé of Sauternes, Vintage available: 2002, 2007 et 2011* (only one 1st Grand Cru Classé certified bio)
Petit Guiraud, 2nd wine of Château Guiraud at lovely prices, Vintage available: 2013
G de Guiraud, its wonderful dry white wine, Vintage available: 2013,  2014
Posted: