Last Friday, Frederic Bernard and Frederic Martin, visited Clos des Lunes, a vineyard in the Sauternes appellation. Redeemed by Domaine de Chevalier, this magnificent 25-hectares vineyard has conquered the managers of Bordeaux Tradition. With a production capacity of about 70,000 bottles a year, the property is a beautiful hilly vineyard, well watered, located in Sauternes (between Yquem, Rayne Vigneau, Clos Ht Peyraguey, Guiraud) and planted with old Semillons and Sauvignons.
During the visit, we were able to enjoy this clear wine, which had a gold colour shining like a beautiful pale yellow. These outstanding wines, are obtained through manual harvest in the morning, using crates, and because the golden raisins are sorted successively by expert hands. The cellar contains 10 tanks of 50 hl, thermoregulated, and two other tanks in the ground, recently built to work by gravity pressing. A slow pneumatic pressing without maceration and de-stemming, done by two presses from Chevalier, allows sequencings to be adjusted. The settling is made naturally by gravity, in cold rooms. All the techniques used at Clos des lunes comes from the Domaine de Chevalier, ensuring the new vintages, to have an increased quality, based on experience.
Marketed under three names, the Clos des lunes will attract you:
– The Lune d'Or, a very nice batch of 10,000 bottles, in barrels. This white premium from the best plots of the vineyard, has a special attention from the team, because 2012 will be the first year where it will be sold. The gold wine-marking  in new barrels gives to this vintage, a finesse and freshness coming from the natural and toasty power of the oak.
– The Lune d'Argent, the great wine, offers to the nose, some sensations of exotic fruits, with a peak honey and delicate notes of white flowers. Fruits taste are lychee, kiwi and citrus, accompanied by acacia flowers. The set has a rare clarity. On the palate, this wine exudes a feeling of leaking white pulpy and ripe, accentuating the fun by good acidity. From 70% Semillon and 30% Sauvignon, this wine of 13.5 ° is contained in 75 cl  bottle of Bordeaux kind eighteenth century will attract you by its aesthetics, it is served at a temperature of 10 ° c.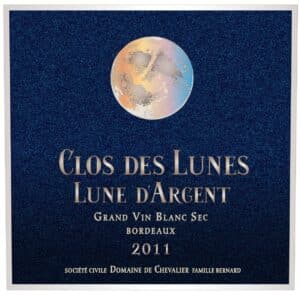 – The Lune blanche, the second wine, which volume is 70 hl (14%) of the 500.
All the will of the owner, Olivier Bernard found in this white, which will, in future premieres satisfy you in every respect, nose and mouth. Bordeaux Tradition looks forward to test it for you, the very first bottles that come out … Stay tuned …..
Posted: