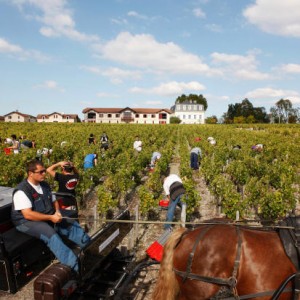 We went to meet Alfred Tesseron on Wednesday October the 3rd in order to discuss the vintage to come.
Our first impression when we arrived and looked at the vines, is that their sanitary state is excellent. Alfred is in this way expecting to produce as many quantities as last year and why not a little more. We are definitely not on the 20% drop that was defined here and there. The normality here is 40-45hl/ha which is nice to hear. It is absolutely not proved that 30 hl/ha yields can be better than 40 in a normal year.
Alfred will even take the risk of waiting a couple more days in order to harvest as close to perfection. The weather is good for the next 4 to 5 days to come. In this way it is best to wait for the merlots.
At Pontet-Canet we try to work organic viticulture as much as we can. No more green harvest, not necessarily sophisticated machines. Here, it is the human that rules: the temperature of the tanks is checked 24/7, the harvest is done by hand because the team is convinced that the quality of the grapes will be better in the end than by using an optical shortage table…not only, the team goes back several times in the lots in order to pick up the best grapes.
Additional information: nowadays, more than 40% of the vineyard is handled by the help of horses. This percentage increases every year and Alfred is convinced in reaching 100% one day.
More information on:  http://www.pontet-canet.com/fr/fracceuil3.htm
Posted: