Chateau Laujac, bought in 1852 by the Bordeaux wine trader Herman CRUSE, still belongs to the family, also at the head of Bordeaux Tradition creation. The estate was built in 1810 by mister VILLEMINOT supplier of the wars of the Empire. The cellars were built in 1875 by Théophile SKAVINSKI who was the first wine-maker to lead reconstruction tests after the phylloxera crisis. The estate, park, and cellars are registered historical monuments. The estate long time managed by Bernard CRUSE, is today by his daughter Vanessa and her husband Philippe DUBOSCQ.
The vast Domaine of Laujac, in the heart of the Médoc, is spread on a surface of 400 hectares and cut into two vineyards: The one of Laujac located on gravel soils and beneficiating of an excellent drainage, and the one of Laffitte located on clay limestone soils close to the village of Bégadan. The proximity of the Gronde estuary and the Atlantic Ocean creates a micro climate favorable to the vineyard and the good maturation of the grapes. Chateau Laujac is composed of 60% de Cabernet Sauvignon and 30% de Merlot. Pierre BECHELER, specialist of the soils of the grands crus classés stated that the plot of cabernets in front of the estate where close to the ones of Château Margaux. The terroir is exceptional and important constructions have been realized these last years. This will allow the estate to rise among the great Bordeaux's. Mathieu HUGUET stated that a wine with the same standards as Chasse Spleen can be produced at Chateau Laujac.
According to Bordeaux Tradition, the 2010 vintage is a success and confirms the status of the vintage, the wine is supple, the fruits are ripe and the tannic structure is not to tough. The South, south/east exposition made the soils the finest of the appellation. The reception of the harvest was rethought since the purchase of the shortage table SOCMA : same one as at Chateau Issan. The wine is 12 month barrel ageing within 25% new oak and ally the Cruse family savoir-faire.
If you
want more information or an offer 
about this vintage 2011 or any others vintages of Chateau Laujac, please free contact us at 
contact@bordeaux-tradition.com
 or by phone at
+33 5 56 69 25 30
.
Don't forget our professional website
with technical sheets by vintage, press reviews and our prices:
Bordeaux Tradition.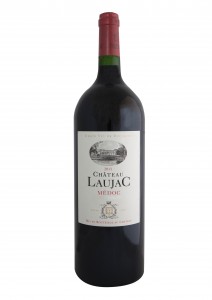 Posted: