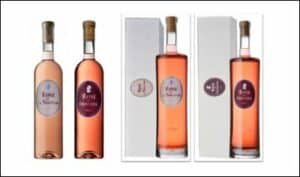 We have the pleasure to present you two golden nuggets by Olivier Bernard: Rosé de Chevalier 2015 and Rosé de la Solitude 2015 ! 
The quality improvements led by Olivier Bernard and his team for several years enable Domaine de Chevalier and Domaine de la Solitude to stand now for the title of best Bordeaux Rosés. Today, we are glad to introduce you the new 2015 vintage. 
On one hand, Rosé de la Solitude is the rosé produces at Domaine de la Solitude. On another hand, Rosé de Chevalier is the rosé de Chevalier belongs to the Domaine de Chevalier, famous Classified Growth of Pessac-Léognan, from best best tank of Cabernet Sauvignon.
During 20 years, the Rosés made by Domaine de Chevalier & Domaine de la Solitudewere considered as a minor production of the property. But with the 2009 vintage, a new orientation has been taken, a new philosophy has been implemented. Olivier Bernard has decided to fight against the famous Provence, by focusing on paler color, greater acidity and more intense aromas.To symbolize this change of style, he has also redesigned the bottle, so as to reflect the elegance and the modernity of his Rosés. Manufactured by a remarkable french glass-maker, Saver Glass, the bottle is ornamented with a pink tone medallion-style label  that makes it stand out against its fellow competitors.  By this way, both wine have the unique signature of one of the best Red and White winemaker: Olivier Bernard. They are Premium Rosé made by a Bordeaux Classified Growth. 
These wines will embellish your summer diner ! 
So, for more information on the offer about Rosé 2015 by Olivier Bernard, you can contact us by mail at contact@bordeaux-tradition.com or by phone at +33 5 56 69 25 30. 
Think also about our professional website where you can find all technical sheets by vintage, press reviews and our prices: Bordeaux Tradition.
You can find out the Chateau website : here and here! 
Posted: