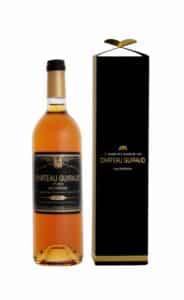 We are glad to introduce you to the amazing release of Château Guiraud 1996, 1st Cru Classé of Sauternes, celebrating 20 years of organic commitment !
July 20th 2006, Château Guiraud is bought by four personalities: Robert Peugeot and three wine makers, Olivier Bernard, Stephan Von Neipperg and Xavier Planty. The meeting of these four wine lovers during a dinner at Paris,  launched the new team. Their passion in wine gastronomy, nature and hunting, made them agree on the same project, built around the quality and the philosophy of this fantastic estate.
For this vintage 2016, the estate wanted to celebrate 20 years of commitment to sustainable practices . This 1996 was actually the beginning of the organic conversion, which makes today Ch Guiraud, the sole 1st Clasisified Growth 1855 certified organic ( since 2011).  Talking about score, Press always praised the wines produced by Ch Guiraud, and this vintage 1996 does not brea the rules: Robert Parker (91/100), Jancis Robinson (17/20) and Jean-Marc Quarin (92/100).
Why buy this release ?
1st Cru Classé of Sauternes since 1855.
ExChateau release, perfect storage
Vinified by Ch. Guiraud: the savoir-faire of 1st Cru Classé team.
A Wine part of Bordeaux Tradition family wines.
A wine always well noted by Press: this 1996 vintage is noted 91/100 by Robert Parker.
The 20 years  ageing of vintage 1996 !!

"an oldy gold color with marmelade, Clementine and touches of brown sugar" (Robert Parker) but also "dried apricot, sweet spices and ginger" (Xavier Planty). 
To receive an offer on this exceptionnal Château Guiraud 1996 , you can send us an e-mail at sales@bordeaux-tradition.com or by phone at + 33 5 56 69 25 30
Don't forget our professional website where you can find all technical sheets by vintage, press reviews and our prices: Bordeaux Tradition.
Posted: