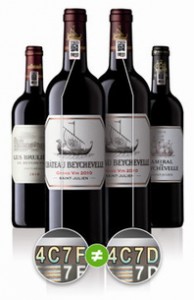 Since the 2010 vintage and thanks to the tesa scribos technology named PrioSpot, Château Beychevelle has been fighting against counterfeit that is expanding in the export markets.
PrioSpot guarantees several security levels:
Each bottle is protected by a unique code
The appearance is different under direct and scattered light. Under direct light the security logo is iridescent
Under direct light and while tipping the moving code, the two last characters of the security codes become visible.
A web site was created in order to authenticate each bottle. This one is visible on the internet at http://b4c8.gcfs.fr/, and will be visible on computers and touchpad as well. Technical sheets are to be consulted on this web site.
A recap sheet is placed in each case of the 2010 vintage of Château Beychevelle.
Château Beychevelle joins in this way the several estates that are fighting against counterfeit!
Posted: