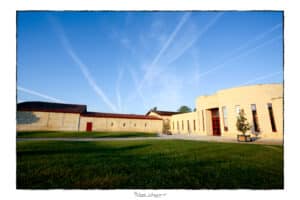 During an autumn Sunday in Gironde, Olivier Bernard, owner of Domaine de Chevalier Grand Cru Classé of Graves, received 300 gests for the inauguration of the estates new bottle cellar controlled by positive energy.
Leognan's mayor, Bernard FATH, as well as the president of the regional council of Aquitaine, Alain ROUSSET, was present to support the importance of this innovation estimated at 2 millions of euros.
The past installations didn't respond to the expensive and increasing needs of the family estates. With the help of the architect Hugues Le Grix de la Salle, this new bottle cellar of 1600 square meter is the first in the world to produce its own energy. Even better, all the surrounding buildings will beneficiate of the energy produced.
This new building is equipped of a photovoltaic roof and a central of 121 kW within 100 that are directly re-injected in the electric network of EDF (France's GE). This new cellar facilitates the cellars organization, circulation and access. The conditioning unities were also integrated to the cellar. The wine can now be kept and aged in the best conditions.
The owner Olivier Bernard deserved building a cellar reflecting the values of Domaine de Chevalier: innovation in harmony with the environment. Isolated in perfect harmony with the wood, the new cellar of Domaine de Chevalier represents without a doubt the future of buyers more and more preoccupied by the environment.
Posted: