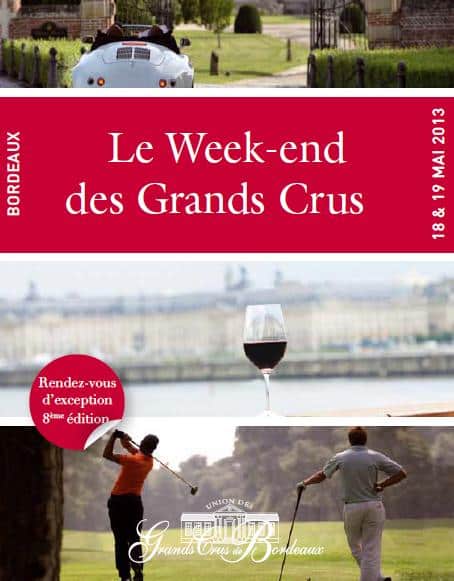 The UGCB (Grands Crus Classés de Bordeaux) chaired by Olivier Bernard organizes on Saturday, May 18th and Sunday, May 19th, the 8th edition of the Week-end des Grands Crus tastings where the attention of major French amateurs and international wines will be implemented.
This is the perfect opportunity for you, to enjoy over 100 wines in the same place in the heart of Bordeaux. Accompanied by their creators, the highly anticipated 2010 vintage will be tastable while enjoying breathtaking views of the heritage of Bordeaux which is a UNESCO site.
Saturday, May 18th:
– From 10.30am to 5.00pm : Grands Crus tasting at Hangar 14 (Quai Des Chartrons – Bordeaux)
– From 8pm: Dinner passion in some famous properties like Château Bouscaut, Château La Conseillante, Château Guiraud… (Bookings closed since May 8th, however please contact us if you wish to arrange for the next edition, click here)
– From 8pm to 2am: 18-35 party, a wine bar will appreciate these Grands Crus in the company of the younger generation of owners.
Sunday, May 19th:
– Every day, with reservation, will be organized tours in the vineyard as well as open doors in some great estates such as: Château Phelan-Segur, Château Pichon Longueville, Château Rayne-Vigneau, Château Clinet, Château Canon Gaffelière…
– For lovers of wine and golf, a golf tournament will be held throughout the day, it will associate owners and amateurs of Grands Crus.
For more information or bookings about this beautiful 8th Weekend des Grands Crus, you can download the brochure Weekend des Grands Crus by clicking here or go directly to the official website of the UGCB by clicking here.
Posted: