Yesterday, we had the pleasure to receive Thomas Hervé at Bordeaux Tradition in order to taste the Fronsac of the family estate:  Château Moulin Haut Laroque. 
In 1977, Jean-Noël Hervé took the lead of the property. In 2000, he makes his dream comes true by offering Château Moulin Haut Laroque new & ultra-modern cellars and facilities. The vintage 2000 also marks the beginning of a new era: perfectionism. It is in July 2012 that Thomas Hervé joined the team of Château Moulin Haut Laroque after studied financial market both in France and England. In first instance, he monitored the work in the vineyards and the winery during and after the harvest. He is now in charge of the traceability and quality' topics. All this innovations lead the estate to make the best wines of its appellation Fronsac. 
More than its management of the estate talents, Thimas Hervé also distinguishes himself in monthly blogposts. We deeply advise you to read it if you want to have more information about their wines but also in order to keep the smile thanks to its gift for writing: Les Billets de Thomas Hervé 
About the wines tasted yesterday: Château Moulin Haut Laroque 2004, 2010, 2012 et Château Hervé Laroque 2006, 2008 et 2010, the team of Bordeaux Tradition has to highlight that the vintages have potential. Indeed, the story of the estate, the quality regularity, the particularly sharp monitoring before and during the harvest, marketing and quality-price ratio are all the reasons to buy these wines. 
To sum up, after this tasting of Fronsac, we are thinking that: " We find in this 1st and 2nd wine, all vintages, the savoir-faire of Hervé family. They are all presenting a beautiful structure. With their traditional maturing, they have a classical vinification but also an originaly thanks to the mix grapes: 65% Merlot, 20% Cabernet franc, 10% Cabernet Sauvignon et 5% Malbec with vines of 100 years old. These wines reflect the tipicity of Saillans soils which produce the best Fronsac of the appellation (Moulin Haut Laroque, Carles, Dalem…)".
To receive an offer on these wines, you can contact us by mail at ventes@bordeaux-tradition.com or by phone at +33 5 56 69 25 30. 
Think also about our professional website where you can find all technical sheets by vintage, press reviews and our prices: Bordeaux Tradition.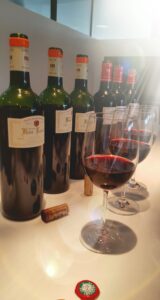 Posted: