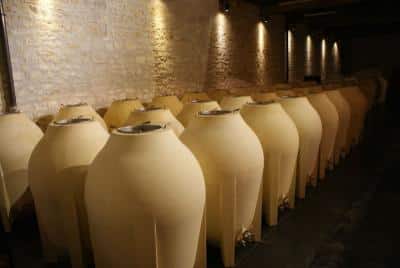 The technical director of Château Pontet Canet Jean-Michel Comme decided to age 15% of the 2012 vintage in amphoras: first time for a Grand Cru Classé!
This choice isn't surprising when we know this 5th classified growth of 1855 that took the surprising decision in 2004 of switching to biodynamic viticulture. Ever since, 1/4th of the 81 hectares is worked on with horses: plowing, diffusion of the treatments etc.
This switch paid off because Château Pontet Canet is considered as one of the wines whose quality increased the most these last 8 years. In this way the wine is renowned by the specialized press among Bordeaux's greatest wines.
This new challenge comes from the will of Jean-Michel Comme of creating wines that are not dominated by wood. In this way, he decided to age 15% of the 2012 vintage in amphoras. The goal is to express the grapes nature: a choice that is not surprising when we know the existing work led in the vineyard and cellar that is in the biggest respect of the fruit.
Part of the harvest will age in amphoras that were designed for the wines of Château Pontet Canet: wide at the bottom to favor the wine's thickness.
Never seen in France, each amphora is composed of the soil of Château Pontet Canet! In this way the merlots will age in the amphoras containing limestone and the cabernet sauvignon will age in amphoras containing gravel.
In all it is 50 amphoras of 900 liter continence that were installed, "rendez-vous" in a couple months!
For further information on this wine, check out our professional website: technical sheets, photos etc.
Posted: