Château Croix Figeac changes name and labels and becomes Château Pierre 1er as a tribute to the owner Jean Dutruilh's father, Pierre Dutruilh: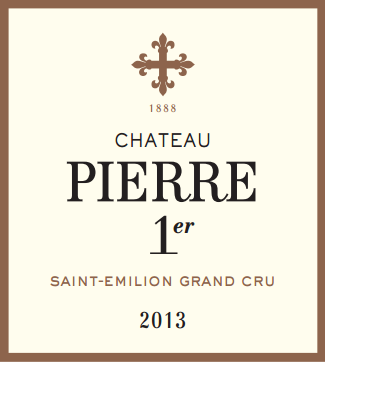 This modern label will now adorn the bottles of the former Château Croix Figeac starting the 2013 vintage. The wines quality will be unchanged, the vineyard still beneficiates of its exceptional position close from Château Cheval Blanc, and the new management of the vineyard is still towards organic viticulture. In the vineyard the work led is all done manually and the owner encourages small yields in order to propose a quality worthy of a grand Saint-Emilion Grand Cru.
Once the harvest is done, a pre fermentation is led just before the vatting. When the fermentations are over, the wine ages in barrels part new barrels, from 12 to 16 months.
A wine that you will have the chance to taste during the primeurs tastings at château Beau Séjour Bécot from the 1st to the 3rd of April with the other wines of Michel and Dany ROLLAND and their partners.
Reminder: this wine is Parkers best quality/price ration of  Bordeaux
We still have in stock wines of the 2010, 2011 and 2012 vintage please send us a mail at
sales@bordeaux-tradition.com for further information
Posted: