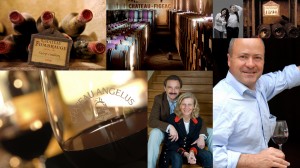 The new Saint Emilion classification has been released! It has required a lot of work on the part of producers and INAO to finish this task because of the various controversies raised by the results of the 2006 one. We put on this link the press kit of the Saint-Emilion wine council together with an excel file with all the vineyards of the classement which follow the evolution of their ranking year by year. There is three categories : grand cru classé, 1er cru classé B and 1er Cru Classé A. The term 1er Cru Classé B disappears under the new ranking system for leaving only the 1ers Crus Classés which 4 are 1ers Crus Classés A because their wines have a strong reputation and an exceptional aging potential.
Who are the winners ? Everybody speaks about Angelus which have won the GCC statut in 1954, the 1B in 1996 and the 1A in 2012 as like as Pavie Castle which become 1A in 2012. But the others winners are: Stéphan Neipperg who see two of his wine grow strongly (La Mondotte which as no title in 1954 to 1 in 2012, but also Canon La Gaffelière which become GCC to 1 in 2012) and Valandraud which go to nothing to 1 this year.
New in the classement are: Barde Haut, Côte de Baleau, Faugères, Fombrauge et fourteen others (see the excel).
And the vineyards which had lost a position :none of the 1st have lost a position but Corbin Michotte and Cadet Piola has lost their Grand Cru Classé label.
Posted: