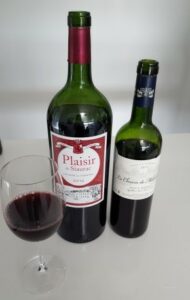 If you wish to get further information on this wine or receive an offer, please free to contact us at sales@bordeaux-tradition.com or by phone at 05 56 69 25 30.
Bordeaux Tradition has always been in charge of making available to you the best Bordelais wines on the market. But this selection does not occure by chance! Indeed, regularly tasting are organized during which the team of Bordeaux Tradition tastes the cru that we receive.
Today, it was Frédéric Bernard, Frédéric Martin and Stéphane Cruse who met around a tasting of samplers of wines in order to offer you the quality that we advocate. So it is in thos logic that a fortnight of wines was enjoyed, each analyzed carefully thanks to a diligent scoring on their texture, smell and flavour. Two wines were markdown: Plaisir du Château Siaurac et La Closerie du Château Malescasse. 
Simultaneously, Bordeaux Tradition proposes other wines still available like La Demoiselle de Sociando-Mallet, Château les Ormes de Pez, Château Gloria and La Croix Ducru-Beaucaillou. 
In this way, as 2015 is ending, we are putting in front of the scene a selection of Magnum, including the whole wines here and many more that you can find out in our professionnal website: www.pro.bordeaux-tradition.com or by mail at sales@bordeaux-tradition.com
Posted: